The unavoidable Instagram-ing of holiday festivities means you've got to look on top of your game. Watch our "Holiday Looks" segment featured on Twin Cities Live (video above) and read the tips below.
CLASSIC COMFORT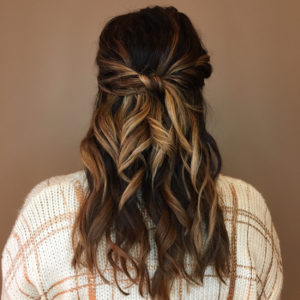 Change up your look from your typical go-to style with this effortless looking, boho-inspired half-up-twist. It's a comfortable and keeps your hair out of your face. The best part? It's easy to pull off because the overall look appears "undone," so you don't have to spend time particularly placing each hair. All you need are a few bobby to secure the hair and your twisting skills.
The hustle and bustle of the holiday season doesn't always leave much time to perfect your makeup game. Do yourself a favor…cut your makeup routine down immensely and head to the salon for a Lash Lift service. In just one 45-60 minute procedure you can lift and curl your natural lashes, providing lasting enhancement and definition for up to 8 weeks without the upkeep of lash extensions. Add on a lash tint for additional drama and maintenance-free glam…no more wasted time spent fussing with false eyelashes or loading on clumpy mascara. For a completed look, find an all-in-one pallet for a quick and easy makeup application. Try Shimmer Brick by Glo on the face, cheeks and eyes. It's the ultimate multi-tasker and the perfect travel companion. With four beautiful colors you can swirl together or use individually to illuminate key features. Finish with a rich nude lip color.
FESTIVE & FUN

 
The ponytail, is one of the most basic and versatile hairstyles out there. You've probably worn this style many ways time and time again, so how can you change it up? Try the knotted side pony tail. It's only a few quick steps and no braiding skills are required. If your hair isn't quite long enough to pull off the side swept pony, leave a few bottom layers out of the knot and bobby pin them to the finished 'do for added length.
If your outfit is already sparkling with festive and fun, keep your makeup simple and choose one feature you want to stand out. For this look we focused on the lips (nothing screams holiday more than a berry lip). Start searching for your go-to berry to carry you through the season. Try Malbec by Noyah. We love Noyah glosses because they are all-natural, add a rich sheen and pop of color. Ingredients like Coconut Oil, Cocoa Butter and antioxidant rich Vitamin E pack on the moisture to protect and soften the lips. Consider applying a lip liner before your lip gloss or lip stick to prevent the color from bleeding or feathering, plus liner prolongs the wear of any lip color.
HOLIDAY CHIC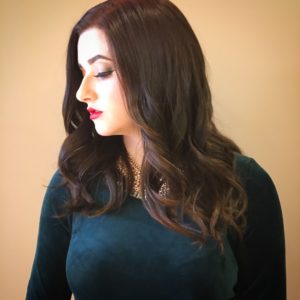 Nothing screams oh-la-la more than satin looking healthy, voluminous hair. Of course, heat styling and at-home blow-drying techniques contribute to this polished look, but a key step to achieving luscious locks is at-home care. Just like your weekly facial mask, you should include a hair mask in your weekly beauty routine, especially in the winter. Revive lifeless, dry hair with Moroccanoil's Weightless Hydrating Mask. This moisturizing, five-minute hair mask is rich and creamy, yet lightweight so it won't weigh your hair down. It's great for all hair types and will dramatically improve the texture, elasticity, shine and manageability.
You can't go wrong with a smoky eye and classic red lip. However, the key to any glamorous look is a full, bold brow. Your brows frame your face and enhance your overall look instantly. At the end of the day, brows should look natural and subtle, not like you took a Sharpie to them. Just by filling in the sparse areas and enhancing their color takes your look from blah to fabulous!
Transform your brows instantly with RevitaBrow® Tinted Brow Gel, a mineral tint styling gel that fills in sparse areas, defines and tames unruly brows. Its buildable formula allows for multiple applications until your desired brow volume and color is achieved. Plus, it's a water-resistant and long wear formula to keep brow hairs in place all day long. Looking to improve your brows long term? Try RevitaBrow® Advanced Conditioner. This award winning product enhances natural eyebrows that may appear damaged from over styling or environmental effects and give you a bolder, fuller looking brow. BioPeptin Complex and natural botanicals work together to defend against breakage and improve flexibility, moisture and shine while adding definition.  Gentlemen can also use RevitaBrow® Advanced to enhance the appearance of sideburns, beards, & goatees.
All products mentioned above are available at all 3 Simonson's Salon and Spa locations. 
3S Experts Featured:
Classic Comfort Look
Hair by: Terah | Simonson's Coon Rapids location
Makeup by: Kayla | Simonson's Plymouth location
Festive/Fun Look
Hair by: Katlyn | Simonson's Plymouth location
Makeup by: Kayla | Simonson's Plymouth location
Holiday Chic Look
Hair by: Alissa | Simonson's Maple Grove location
Makeup by: Kayla| Simonson's Plymouth location
Comments