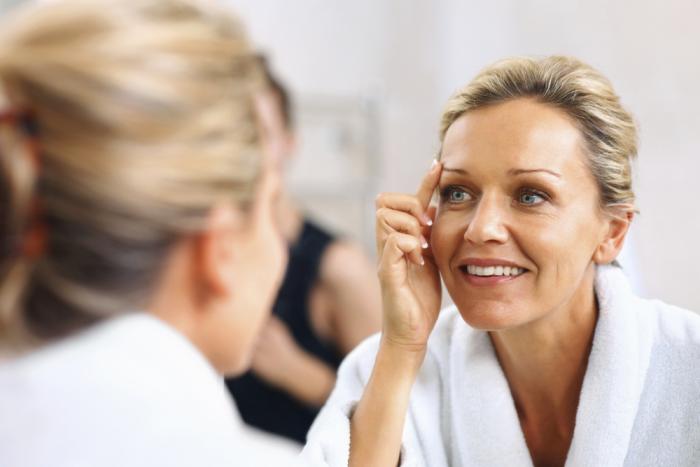 When it comes to aging skin, most people agree that they would like to age as gracefully as possible. The changes you see as you age can depend on several factors like genetics and sun exposure, however; if you develop healthy skin habits, you might be able to focus on prevention more than reversal.
Take a look at the list below for skincare habits that promote healthy skin for the long run at any age.
SPF – The sun will age your skin faster than anything else. Use an SPF every day no matter what the weather is like outside.
Vitamins – Take a daily dose of skin healthy vitamins at every age!  Vitamin C (L-Ascorbic Acid) is one of the most important vitamins your body needs.  Your skin needs Vitamin C to produce collagen and the best way to deliver Vitamin C to your skin is through a topical application.  Vitamin C brightens, lightens, tightens, and is an incredible antioxidant!  Vitamin C pairs with hyaluronic acid like salt and pepper.  Hyaluronic acid helps the l-ascorbic acid penetrate better and also helps to replenish water in the skin. Ask you Aesthetician which Simonson's products would be best for you.
Hydration – Water is one of your skin's best friends. Drink at least half of your body weight in ounces per day.  Water will help keep your skin hydrated as it flushes out toxins in the body.
Exercise – Yes, exercise is great for your skin!  When you exercise, your blood circulation increases which will promote healthy skin cell turnover.
Don't Smoke – When you smoke, your body will show signs of aging a lot faster.  Why?  Smoke increases free radicals which are unstable molecules that attack healthy cells.  Free radicals are the second greatest cause of aging signs!
Healthy Diet – What you put in your body affects how your skin looks.  Fresh fruits and vegetables are high in antioxidants, (these are powerful fighters against free radicals) so your skin will thank you for choosing them over other, less healthy snacks.
Cleanse 2x – Cleansing twice means once in the morning and once at night, so don't forget about the nighttime cleanse.  When you go to sleep in your makeup, your skin doesn't have the freedom to repair itself from the day.
See an Aesthetician – Whether you make appointments for facials or chemical peels, going to see an esthetician once a month will give your skin some much needed R + R.  An Aesthetician will help you find your ideal skin routine and keep your skin in good shape for years to come.
Sources: gloprofessional.com
Comments