Summer has arrived! As we pack away winter clothes and pull out the summer wear, we must consider how our skincare should change with the seasons. Enjoy the sun while keeping skin protected and hydrated with new products from three exciting new brands at Simonson's!
JUST IN!
Redefine SPF with Colorescience. With summer around the corner, we've found the perfect SPF to keep you safe and glowing all summer long! Skip the sunburn with Colorescience's tinted, moisturizing SPFs that add a minimalist and natural glow into your skin with broad spectrum protection from harmful UVA and UVB rays. May is Skin Cancer Awareness Month, and Colorescience products are one of the few brands recommended by the Skin Cancer Foundation for optimal active protection. Benefits include:
Reef Safe – Mineral based protection with no added chemicals
100% pure, natural minerals, antioxidants, and botanicals
Patented triple-layer mineral coverage shields free radicals which aids in long-term skin health and appearance
Pollution & blue light protection
Hypoallergenic and Non-comedogenic
Free of parabens, sulfates, phthalates, oil, dyes, and fragrance
You can feel comfortable knowing their skincare uses natural, cutting edge technology with a science-based approach to sun protection! Shop from two of their bestselling products:
The Total Protection™ Face Shield Flex SPF 50 ($49 – 1.8oz) features innovative, iron oxide pigments that bloom in your fingertips delivering tone-adapting coverage unique to your skin. With a medium, demi-matte finish, this tinted SPF helps even out skin tone while protecting from harmful sun. This SPF can be layered for the perfect amount of coverage based on your preference. Comes in 4 colors: Fair, Medium, Tan, and Deep (Special Order).
The Total Protection™ Face Shield Glow SPF 50 ($45 – 1.8oz) comes in a sheer, golden peach tint that gives skin a luminous glow. Wear alone or layer with your foundation for a dewy, luminous look. This formula is hydrating and safe for all skin types – a new staff favorite!
---
REFRESH

Replenish dehydrated skin with a classic face mist from Evian! Coming in a fine misting bottle, this spray is perfect to boost hydration during or after a day in the sun. With a travel size available, this facial spray is convenient to carry for throughout the day cooling & refreshing.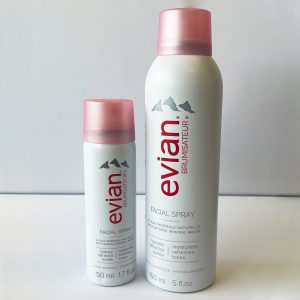 Soothe and calm sensitive skin
Boost skin's hydration throughout the day
Refresh makeup throughout the day
Can be used to blend and finish makeup looks
Coming in a cute, nostalgic spray bottle, you will be obsessed with this hydrating mist all summer long!
– Evian Facial Spray 5oz – $14
-Evian Facial Spray 1.7oz – $8.50
---
HYDRATE & HEAL
We haven't forgotten body care for the summer! Meet Maui Babe: a cult favorite for getting that perfectly moisturized, sun-kissed skin. Created in Hawaii with all-natural ingredients, this product was designed for sun-lovers and adventurers. Keep your skin hydrated and happy with these new products from Maui Babe.
Browning Lotion | 8oz. $16.99 – Apply before sun exposure to get a deeper, darker tan. (We recommend applying SPF before to protect skin)
After Browning Lotion | 8oz. $15.99 – When your skin needs TLC from the sun, wind or other environmental elements, reach for this soothing, fresh-scented body lotion. Meant to heal & repair damaged, dry skin, you'll feel a noticeable & long-lasting softness to your skin after just a few applications!
Hydrating Mist | $24.99 – Hydrate skin & smell amazing! This lightly-scented body mist is refreshing and cooling. Made with natural coconut, sweet almond, macadamia nut, rosehip water and aloe, you'll be transported to the tropics with every mist.
Have more summer skin questions? We've got you! Schedule a complimentary consultation with one of our Aestheticians today to find the right products for your skin concerns and goals!
– Simonson's Salon & Spa
Comments