Do you avoid lying on your stomach due to breast discomfort, especially during your massage? The longstanding complaint of 'squashed breasts' is something our technicians understand on a daily basis. Breasts are, to varying degrees, pressure intolerant structures that require protection in prone/face down positions.
We found a solution for you…Mammagard! Mammagard is a breast orthotic device scientifically proven to provide support and comfort for your breasts, which is especially beneficial for abnormal or surgically altered breasts. As the first of its kind, Mammagard addresses the discomfort and anxiety women experience when lying on their front.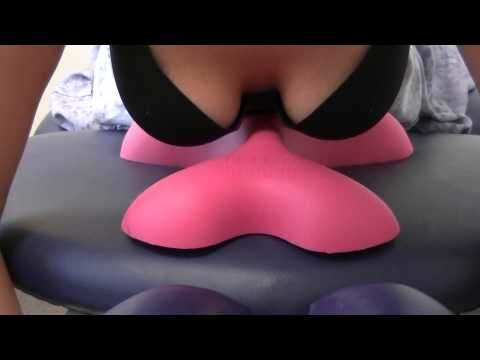 Watch this short video for a Mammagard demonstration: www.youtube.com/watch?v=jJwH2liNTMY
Whether it is sleeping, lounging, visiting the chiropractor or perhaps even sun bathing, Mammagards provide protection in a variety of activities of daily living situations. In high loading environment clinical and therapeutic settings where you are face down, Mammagard improves your experience and outcome by protecting breast structures from potentially damaging loading and displacement.
"Before having a Mammagard, I used to dread my visits to my osteopath and avoided having massages and lying on my tummy completely. Lying face down after you have had a breast reconstruction with implants is no fun at all. The first time I took my Mammagard to my Osteopath he was so impressed and couldn't wait for me to try it out. The difference was amazing. I don't get that feeling of dread every time he tells me he is about to put pressure on me. It has really changed things for me and I would highly recommend a Mammagard to anyone who wants to lay face down on their stomach, whether you have had a breast reconstruction or not." – Sarah VIC Australia
Visit www.mammagard.com to learn more and purchase your own
Comments